National Indoor Masters Championships 2022
Congrats to Colum McCarthy who came 2nd today in the National O35 800m in 2:12. He had a great race in what turned out to be a very tactical race. Keep the hard work up Colum.

Carmel MacDomhnaill also picked up two silver medals today, running 7:07 in the 1500M and also 92:30 in the 400M. Fantastic Carmel well done!

Kerins O'Rahilly 10K
The annual Kerins O'Rahilys 10K took place today on the 30th of January 2022. There was over 400 participants and the conditions were perfect for running.

Karl Lenihan had a strong run today and is beginning to bring back his 2021 form, he clocked in at 35:22 to finish in 5th place. Killian Lynch was followed in behind him in 6th place with a time of 36:01. Sean O'Sullivan had a storming run and that placed him in 19th position in a time of 39:23 and followed closely in by Jerry Curtin who ran a great race to place him 28th. Damien Roche and Con Mulcahy both ran strong races finishing side by side in 54th and 55th place. Followed then by Norman Paddle who also ran a blistering race to finish with a time of 55:18.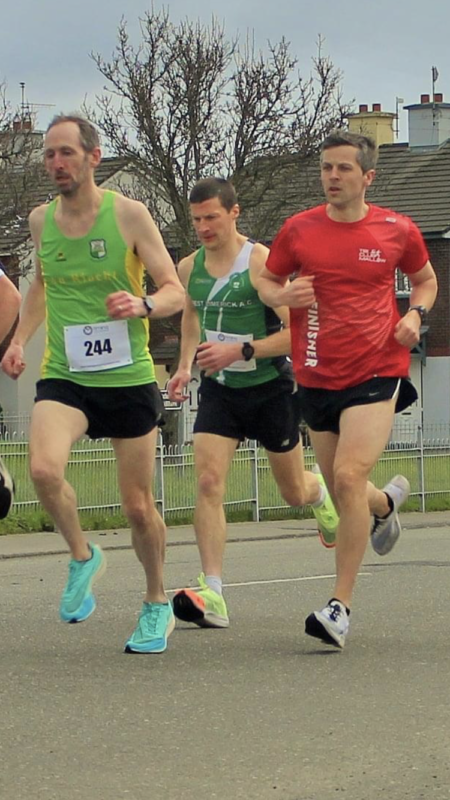 Raheny 5 Mile
A massive congratulations to Aisling Fitzgerald who ran a fantastic race above in Dublin this race attracts a lot of the top athletes from around Ireland. Aisling ran an exceptional race today with a time of 35:26. Well done Aisling!
Club Adult Training Dates & Times:Tuesday 1st February
Two adult training groups.
Fit4Life – with Coach Mark Ryan. Meeting at Limerick Greenway, Newcastle West Gael Scoil Entrance, 7pm to 8pm.
Or
Interval Training – Meeting at Ardagh Church Car Park , 7.15pm to 8.15pm.

Please wear high vis and a light/head torch, new members welcome. You can find out more and register on www.westlimerickac.ie
Championship Fixtures 2022
Sun 6th Feb Munster Senior, Master, Junior and U23 Indoor Championships Nenagh
Sun 13th Feb National Intermediate and Master Cross country Castlelyons Co Cork
Sun 27th Feb Adare 10km Club Event Adare
Sun 6th March Munster 4 mile Venue TBC
Sun 27th March County 4 mile Venue TBC