Limerick Senior, Intermediate and Juvenile Even Age Cross Country Championship: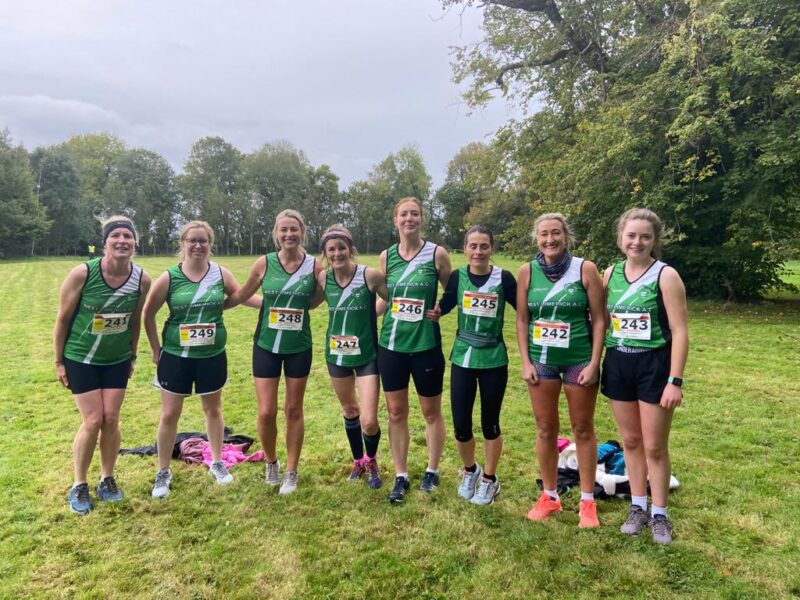 Sunday 4th Oct saw the first day of the Limerick County Cross Country, hosted by West Limerick AC at Castle Demesne in Newcastle West. It was a day of great running, great team spirit and great results for our club.
Firstly, and most importantly we thank everybody who helped to make this much-anticipated event safe and enjoyable for all participants and parents. A large team of volunteers was key to the preparation, stewarding and tidy-up. The time and effort given was very much appreciated by everyone at our club and all the athletics clubs who travelled from around Limerick.
The juvenile races took place in the morning with 19 children from West Limerick AC taking part and the results are as follows:
Eavan Lyons came first (gold) in U10 1000m, Leyna Cussen came second in the same race securing a silver medal. The U10 girls also came first (gold) in the teams so that goes to Eavan Lyons, Leyna Cussen, Amy Lenihan and Chloe Reddin.
U10 1000m boys, Darragh Collins came 2nd (silver) and in the U10 team Darragh Collins, Adam Broderick, Joseph Carr and Michael McGowan came 3rd so a bronze medal for each.
Garvan Lyons came 3rd (bronze) in U14 1500m.
Eimear Bourke achieved gold for U16 3500m.
Conor Goulding got silver for U18 4000m .
Well done also to Madison Reddin, Neil McGowan, Sienna McGowan, Aisling McAuliffe, Rafe Cussen, Katie Lenihan, Ryan Cummins and James Mccoy who also took part and represented West Limerick AC brilliantly.
In the ladies race Amy O Donoghue from Emerald AC showed her class winning the ladies race with Murna Griffin 2nd and Rosemary Ryan 3rd both from Dooneen AC.

Our West Limerick ladies had a good turnout and finished second in the two events (Senior and Intermediate), being led home by team captain Fiona Bourke. In the individual Intermediate, Fiona came 3rd.

Ladies running on the day were Fiona Bourke, Kate Downes, Suzanne Kennedy, Kate Murray, Maeve Kenrick, Tara Carr, Carmel MacDomhnaill and Patricia Hayes.

In the men's race Niall Shanaha (An Brú AC) and Declan Moore (Bilboa AC) had a great battle with Niall just pulling away in the last few 100 metres. John Kinsella (Bilboa AC) came in 3rd.

Our West Limerick men's team turned out in record numbers and our club won the men's senior and intermediate team events, bringing home the two cups.
Karl Lenihan won the individual intermediate and Mike Sheehy came 3rd in the Intermediate.
The following members raced on the day: Declan Guina, Karl Lenihan, Mike Sheehy, Niall O'Callaghan, John Whittaker, Ger Guina, Sean Cunningham, Mark Lenihan, Martin Liston, Gary Carroll, Michael Guiney, Liam Hurrell, Colum McCarthy, Patrick Donnelly, Niall Fitzgerald, John O'Donnell, Kevin O'Donoghue, Mark Ryan, Con Mulcahy, Hughie Flood, Declan Lynch, Bryan Hartnett, Jonathan Leniston, Malachy McCarthy
There were some strong performances throughout the field.  Declan Guina led our men home in 4th position, Karl Lenihan 5th, Mike Sheehy 8th, the returning Niall O Callaghan 10th.

We had 6 finishers in the top 12 including Ger Guina and John Whittaker.

For the year that we have all had and whatever will happen next it was great to have one day in 2020 where Limerick Athletics and its members could shine.
County Uneven Ages, Masters and Novice Competition:
The 2nd day of the County Cross Country was scheduled to take place on 11th Oct in Bilboa – U9 (750m), U11 (1k), U13 (2k), U15 (3k), U17/19 Novice & Master women (4k) Novice & Master men.  This has been postponed to a provisional date of nov 1st. This is dependent on our what level we are at in the county with Covid-19.

County 4 Mile:
West Limerick AC is scheduled to host the refixed County 4 Mile on Sunday Nov. 1st in Dromcollogher.  This has been postponed to a future date. TBC.
Training for adults, Fit4Life and juvenile groups:
Adult Training:
Adult training with coach Gerard Cremin and Fit4Life training with coach Denis Fitzgerald is continuing. Thank you to our members for following our Covid-19 procedures.
In order to attend adult training every member must complete the following:
Covid Course. https://www.sportireland.ie/covid19/course Complete to the end. It will not take long. Complete both The Return to Sport and Covid Officer sections to get the Covid 19 Officer cert. Please send a copy of your Cert to info@westlimerickac.ie
This must be completed on the day of training but before 4pm. You will need to complete this before every training session.
Juvenile Training:
Parents/Guardians of our juvenile members have been notified of what needs to be completed on the club Viber group message and are being kept up-to-date. If any parent/guardian has any questions please contact Tara Carr. Juvenile members cannot train if the procedures are not followed. West Limerick training and events are fully compliant with the Government COVID guidelines