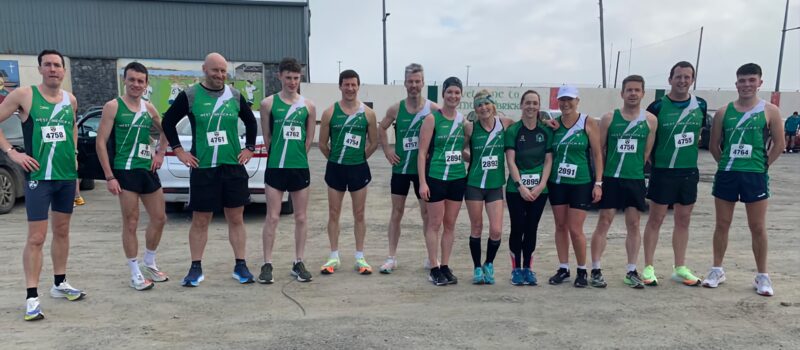 Munster Juvenile Indoor Championships 
On Saturday some of our juveniles travelled to Nenagh indoor track to compete in the Munster relays. We had 5 teams on the day – U10 boys, U11 boys, U12 boys, U12 girls and U13 boys. Each of our teams ran competitive race's against the top clubs in Munster. Thanks to all the athletes for representing the club at Munster level and to the Moms, Dads and coaches for getting them there!
We are back in Nenagh again next Sunday for the Munster U9 to U11 individual events. Best of luck to our youngest athletes again this weekend.
2022 West Limerick A.C. Club Awards
We were delighted to present the 2022 club awards at our Adare 10k race.
These awards highlight a members performances over the year and also their contribution to our club.
Club Person Of The Year:
Tara Carr – Tara is a vital part of of club. She takes exceptional care of our juvenile athletes along with working with our committee to improve our club.
Athletes Of The Year:
Aisling Fitzgerlad – Aisling improved her race times in all race distances over 2022 and we look forward to seeing how her 2023 goes.
Karl Lenihan – Karl has improved year and year with consistent training and races. He had a great year in road and cross country races and ran a super marathon in Dublin.
Most Improved Athlete:
Suzanne Kennedy – Suzanne had a very good year from the County 4 Mile in Dromcollogher to her pb in the Dublin Marathon
Killian Lynch – Killian ran every race possible in 2022 and built on his start with the club. He got stronger as the year progressed and impressed throughout the Cross Country Season.
Fit4life Athlete Of The Year:
Una McCormack – Una is one of our dedicated Fit4Life runners who is always helpful and welcoming to any new members who come to club training. 
Munster 4 Mile
All roads led to the beautiful sea side of Quilty , Co.Clare on Sunday. Home to Kilmurray Ibrickane A.C. who hosted the Munster 4 Mile again this year.
Our ladies team of Susan Lowe, Carmel MacDomhnaill, Tara Carr and Christina Hartnett had a brilliant day out. It was our first ladies team at Munster in recent times and judging by today it won't be the last.
The 4 mile race consisted of three events in 1 race. The Novice, Senior and Masters (Over 35) categories.
The race started at 12 noon with the ladies and men running side by side.
Dundrum AC had the two Individual winners with Kevin Moore first home in 20:11, Dymphna Ryan was first home in 22:56
Ladies Team Novice:
3rd county team
Ladies Team Senior:
3rd county team
035 Club Masters Team 2nd
035 County Masters Team 2nd
Individual Masters:
035 Susan Lowe 3rd
065 Carmel MacDomhnaill 1st
Mens Results:
It was medals galore for the men.
Representing the club were Niall O Callaghan, Declan Guina, Karl Lenihan, Aogan MacDomhnaill, Mike Sheehy, Aaron Lynch, Padraig O Donnell, Kevin O'Donoghue and John Fitzgerald.
We retained our Munster Senior, Novice & Masters Club Team titles from 2022.
It was a brilliant display of team running with each member driving each other to the finish line.
Our men won
Individual Novice:
Niall O Callaghan 2nd
Declan Guina 3rd
Our Novice club team 1st and County team 1st.
Senior:
Club team West Limerick 1st and County Limerick 2nd.
Individual Masters
040 Niall O Callaghan 1st
Aogan MacDomhnaill 2nd
045 Karl Lenihan 1st
Mike Sheehy 2nd
Masters Teams
Club
035 1st West Limerick and County Team
Limerick 2nd
Well done everyone. Thank you to Olivia for registering everyone.
Next up on the club championship calendar is the County 4 Mile. We will host this race on March 26th in Dromcollogher. It will have a 12pm start with ladies and men running together.
Ballylanders 10K
Ballylanders GAA hosted the annual Bill Fox Memorial 10k run on Sunday last. Well done to Paul Crotty who represented the club and completed the course in a time of 59:31.
Club Training
Juvenile: Club training continues each Monday evening at 6.30pm. All details are on the juvenile WhatsApp group. 
Adult Training: Tuesdays on the Limerick Greenway. Starting at the entrance opposite the Gael Scoil. 7pm Fit4Life training with coach Mark Ryan. 7:15pm Club Interval training.
Anyone attending any club training must be a current member for 2023.
Membership
New members are welcome and can join us online via our website www.westlimerickac.ie
If you have any problem with Membership renewals please email info@westlimerickac.ie
Juvenile membership is €25 , Adult membership is €35.